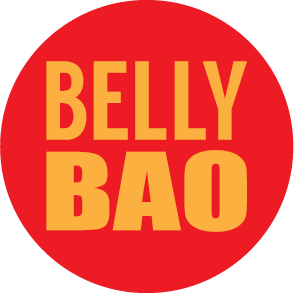 Street food, but not as grandma remembers.
Handmade Bao by us, in-house.

184 King St, Newtown
Sydney, Australia
HOURS
Tuesday to Thursday
5pm till 10pm.
Last orders 9.45pm

Friday
11.30am till 3pm, 5pm till 10pm.
Last orders 9.45pm

Saturday & Sunday
11.30am till 10pm.
Last orders 9.45pm



HOLIDAY TRADING
Closed Public Holidays, unless otherwise stated.

MENU
(g) - Gluten Free upon request, (v) - Vegan
BELLY BAOS
Our handmade steamed buns filled with some savoury goodness
Slow Braised Pork Belly Bao
Panko Crumbed Chicken Breast Bao
Crispy Tofu Bao (v,g)
Crackling Roast Pork Belly Bao (g)
Soft Shell Crab Bao
Slow Braised Beef Bao
BAOGERS
A Belly Bao original creation, the Baoger is our handmade bao burger hybrid.
The Baoger
Chopped Cheese Baoger
The Chicken Baoger
The Eggplant Baoger (v)
BAO NOODLES
A Belly Bao original creation, our handmade bao dough rolled and hand cut into noodles
Onion Bao Noodles (v)
Spicy Bao Noodles (v)
BBC
Belly Bao fried Chicken - brined for 24 hours then battered and fried to order in our special BBC asian spice mix. Get Original or add sticky sauce,spicy sauce, japanese curry or salted egg
BBC Wings
Half/Whole BBC Bird
SIDES
Fries (v,g)
Sweet Potato Fries (v,g)
Curry Cheese Fries
Tofu Papaya Salad (v)
Five Spice Mushrooms (v)
Gai Lan (v)
DESSERTS
Our handmade bao creations
The Gaytime Bao
Pandan Bao Balls (v)
VENUE
184 King St, Newtown
BYO for now - Liquor Licence coming soon
Previously located at Hudson Ballroom, Goodgod Small Club and Paddington Markets.
JOBS
If you're interested in joining the Belly Bao Team either in the Kitchen or out the front, shoot us an email with your resume to jobs@bellybao.com.au
CONTACT
For enquiries shoot over a message to contact@bellybao.com.au
BOOKINGS
We have a limited number of seats available for walk-ins, we recommend booking a spot in advance!

Email bookings@bellybao.com.au with the following details: - name - phone number - number of guests - preferred booking time (Dinner bookings at 6pm or 8pm are most likely to be placed)

Please note: - bookings for the following day must be in before 10pm - we will hold reservations for up to 15 minutes past the booking time to cater for late arrivals



facebook / twitter / instagram
#bellybao @bellybao

Steaming since 2013.
We hand make our bao in Sydney, Australia.
ABN 87 874 557 551